1. Intro
This is the story of a guy we are going to call.. hum.. Bob. Bob think he is smart. He scams people via internet, abusing foreign hosting and redacted for privacy whois domains.
But before I tell you Bob's history, we are going to need a bit of context. And here's is something about brazilians: They are good people (most of them). And they love a discount. Also, they love auctions, cuz well, auctions are cool. And you can, eventually, get good prices. To make matters worse, in Brazil, it's common for the government to make auctions of impounded vehicles and other things that were seized in operations. You can see where I'm going with this, don't you?
Exactly. Bob likes to scam people by creating fake government auction websites. And private ones, too. He takes pictures from yards full of cars (probably from some legit company) and then he pretends there is an auction, with really good prices. He sets up his fake process really well, so people have to go through a validation before they can buy anything (yeah, exactly, before they are scammed). And then, only then, he allows the victims to make their bids and transfer money if they are declared (fake) winners.
Of course, the whole thing is a facade and when Bob gets the money he wanted, he's gone. Domain? Offline. URL? Deactivated. Money? Probably spent on something nice for himself. With all the delicious protection from private domain registration services, and hosting on countries were Brazilian authorities can't subpoena for anything. To rely on some governments cooperation in those cases is.. lets say.. a bit optimistic.
Bob is such a smart guy. Untouchable. He is sure he is smarter than everybody else. He's sure his money is well deserved. A true Danny Ocean of online fraudsters.
Well, let's see about that.
2. Who(IS)
You don't need to be freakin' Sherlock Holmes to know you should start with the basics: Whois and crt.sh to check what you can know about the domain and it's SSL certificates. In this case, let's focus on Whois first and see where that can take us. Our target: Bob's most known website, XXXXXXXXXXXleiloes-br.com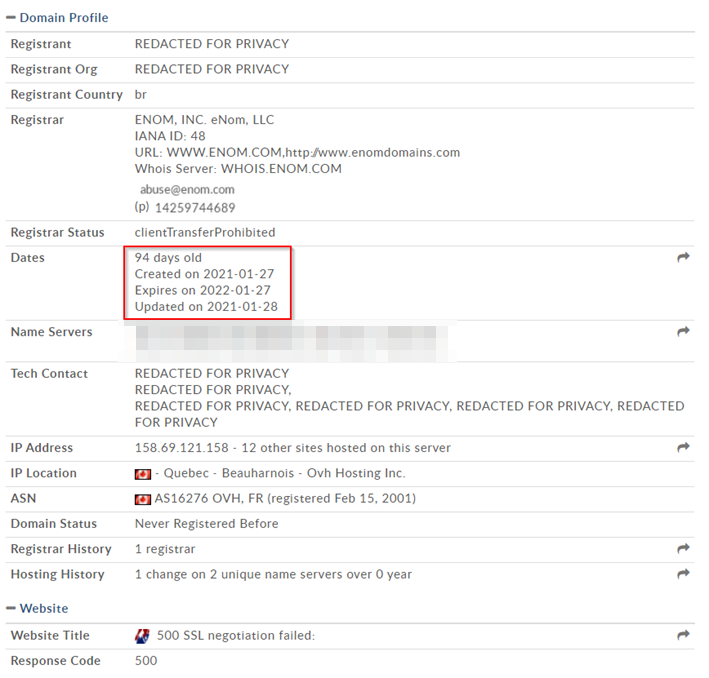 Figure 1 - Whois basic information
Redacted for privacy. Of course, Bob is no spring chicken. A seasoned warrior of life like himself would not make such a mistake of revealing who he is so easily, right?
But we can already start to have some fun. The domain is 94 days old at the time of the screenshot (yes, these are tales of the past), but would you look at this:
Figure 2 - ABOUT US section of the website
To translate the part highlighted in red: It says the "company" is on the market in the whole national territory (of Brazil) since 2014. But the domain was registered only in 2021. Of course that would be a surprise... if we did not knew better.
Figure 3 - IP address datapoint